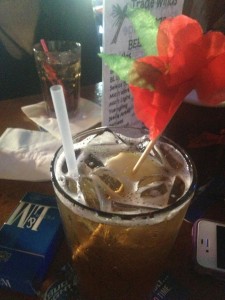 Trade Winds is a really pleasant bar with friendly service and serving a very good drink for a touristy bar. The bar itself is made of beautiful wood and the surrounding maritime atmosphere of the place lends a comfortable relaxed ambiance. It features entertainment at night, but never seems to become overcrowded with the exception of holiday weekends. For the most part, it is more of a local than a tourist place, and if one is to believe what they say, it is the oldest bar in America's oldest city.
As for me, I enjoy for a simple quite afternoon drink and some good conversation with friends. It's really in the heart of the area and lends itself well as a meeting place. Though somewhat dive-y it has a wonderful charm about it.
Marqus R. Fort Lauderdale, FL
I have no idea how many bars I've been to in my life. Hundreds? Everyplace from backwoods dives in the hills of West Virginia to Ivy League "eating clubs".  Based on my decades and decades of bar-going experience, I am completely serious when I say this:
Tradewinds is THE BEST BAR IN AMERICA. Period.
I can't tell you what's on tap or what the bathrooms are like or anything boring like that, but I can tell you this: I have never seen so many people having so much fun in my life. I mean real, actual, unpretentious, everyone-is-equal, beer-swilling, singing, dancing, talking to strangers, uninhibited fun.
The house band, Matanzas, is great musically and the lead singer has a super sense of bantering with the crowd and getting them into singing along.  And as rough as some of the characters are in there, no one was messing with anyone else, no one was pulling any attitude or pushing their way through the crowd.  As some have said, don't go if you're offended by foul language or cigarette smoke. But for good music, totally unpretentious fun, and the sound of Harleys roaring off into the warm Florida night…this bar really is the best bar in America.
Michael J. New York, NY  
Tradewinds claims to be the oldest bar in the oldest town in the nation. It's a little bit of a hole in the wall, but it's got so much charm. The wait staff was really sweet, courteous, and prompt. They have live music every night and Matanzas is the name of the band that frequents. My friends and I got to see them while we were there. They cover a lot of old rock and roll songs and they were so much fun to watch. You can tell they enjoy what they're doing. When we went there earlier in the day, there was a man playing guitar and he definitely had skills. He was enjoyable to watch as well and took a lot of our requests. The bar itself was not crowded. You could tell it was a local place rather than a touristy place. It was clean and dim, like any good bar should be. They allow smoking indoors. There's no food service… so eat before hand. The drinks were fairly priced and my mixed drinks were not watered down. I would definitely keep going back here and keep taking my friends who come to visit the area.
Rocio M. Palm Coast, FL