The following bands are scheduled regularly at the Tradewinds Tropical Lounge. Please check the entertainment schedule for show times. 
MATANZAS
Troy Locke and his band MATANZAS come at you from the Deep South with swagger, sending a signal that resounds in lilting southern rock and ventures into country, zydeco, western swing, ballads, blues, and in your face rock-n-roll, backed up by hardball humor. A unique ensemble of country, southern rock, and rock-n-roll all stars, MATANZAS is a sweet Southland twang of musicality that goes down smooth and leaves a burn. And if you like having a great time at The Winds, say "HELL YEAH!"
Troy and Matanza's last full night at Tradewinds is Tuesday September 23rd.  Check out the schedule for our new weekly music line up.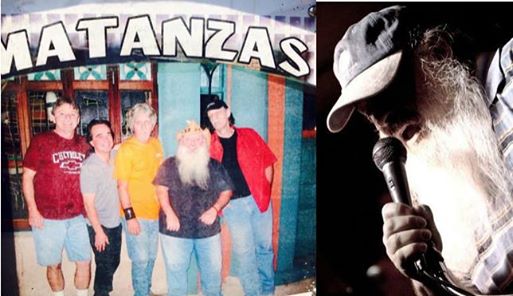 Mark Hart
Biography: I was born on November 5, 1958 in Parkersburg, WV, and was raised in Columbus, OH. I finally made my way  to St. Augustine, Florida in the summer  of '95. That same year I put my years of service industry work on the back burner and began to follow my dream as an entertainer, of which I had 20 years experience playing guitar and singing—both with a band and as a soloist. (GOD HELP ME ON THIS ADVENTURE, PLEASE!) After arriving in St. Augustine, I immediately went on a hunt for a nightclub that I thought would be a good fit for my style of music, which was 60s and 70s music, with alot of Jimmy Buffet thrown in for good measure. I found that club at the TradeWinds. With its location right on the bay of St. Augustine, tropical atmosphere and lighted stage, I thought it would be perfect. The mix of patrons was wonderful, from local, tourists, to others just passing through.  I hung around awhile, letting people know that I was interested in playing and getting to know them. One afternoon in the spring of 1996, Troy Locke asked me to play a happy hour show at the Tradewinds. To my happy surprise, the crowd enjoyed that performance, and I have been playing happy hour ever since,  Saturday through Wednesday from 5-8. I now have my own CD out, entitled "It's My Turn", featuring all original music. Hope you enjoy it! 
CDs can be purchased at showtimes or conveniently  
purchased on-line from this web site. 
The Music of Elizabeth Roth
Elizabeth Roth is one of the best known solo acoustic musicians in North Florida. A versatile, interpretive performer with an impressive finger style guitar technique and a distinctive clear and strong voice,  Roth is very much in demand, performing 250 engagements on average each year.